Fri, 07/09/2010 - 22:04
Mexican youth: Obese, sick and with weak hearts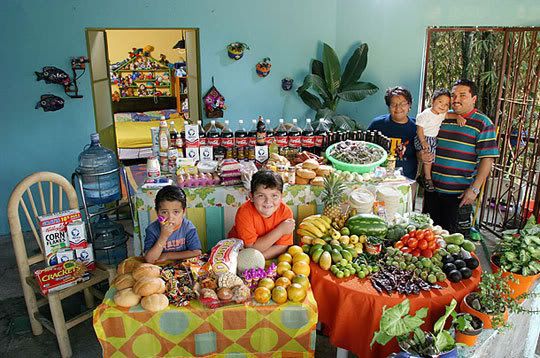 Mexican diet in a month. Photo from photobucket NeNe_WeNo
If you are in the vicinity of a school in any part of the country, just when the front gate opens and the students come out after a busy school day, they head straight to a food stand located right in front or in the surroundings to buy chips, candies, pork cracklings with hot sauce and lemon, corncob topped with mayonnaise and chili powder or simple they take out their snacks that they bought during recesses at the schoolyard. What is inevitable not to notice in this everyday scene, is that many of the pupils are chubby and their round bellies pops out.
A couple of months later, on April 9th, thirteen year old Alejandro García Rojas, who weighed 120 kilos / 264 pounds died of a cardiac arrest on one of the platforms of a passenger bus terminal in Mexico City. Experts foresees, that cases like Alejandro will occur more frequently if something isn't done quickly to reduce obesity.
According to a research made by two Mexican public hospitals: Hospital Infantil de México and Hospital Primero de Octubre, where they studied the hearts of 15 obese children. Their findings were alarming and stunning, it revealed that 11 of those children have arterial thickening that corresponds to a 70 year old adult.
Other important facts, according to the World Health Organization and the International Association for the Study of Obesity, 31% of Mexican between ages 5 to 17 suffer over weight and it's estimated that one of three new born will develop type 2 diabetes throughout their lives, as well, they are in risk to suffer other illness such as hypertension, arthritis, heart attack and certain types of cancer.
Photo by Roberto García Ortiz, La Jornada
Personally, I do believe that 'junk food' is part of the problem of obesity in this country, but not the only one. Its ban in schools and make compulsory for students to work-out for 30 minutes, as the Ministry of Public Education intents to implement, hopefully, in the next school year, if the bill is approve, but won't fully solve the problem. Taking into account, that in general, the Mexicans have terrible eating habits, most of the food and traditional Mexican snacks are fried and greasy and there is no doubt that you will find in almost every Mexican home, several bottles of soda on the dining table, not for nothing Mexico is consider the second country that most sodas are consume worldwide. As I see it, the health official has a huge task in their hands to tackle effectively the bad eating habits, deeply-rooted for decades, within the society. Mexican law makers should put their political and economical interests aside, for the benefit of the country. A country with sick people is a unproductive and uncompetitive country.
Comments or opinions expressed on this blog are those of the individual contributors only, and do not necessarily represent the views of FRANCE 24. The content on this blog is provided on an "as-is" basis. FRANCE 24 is not liable for any damages whatsoever arising out of the content or use of this blog.